Final Standings

Final Standings
Match Schedule Summary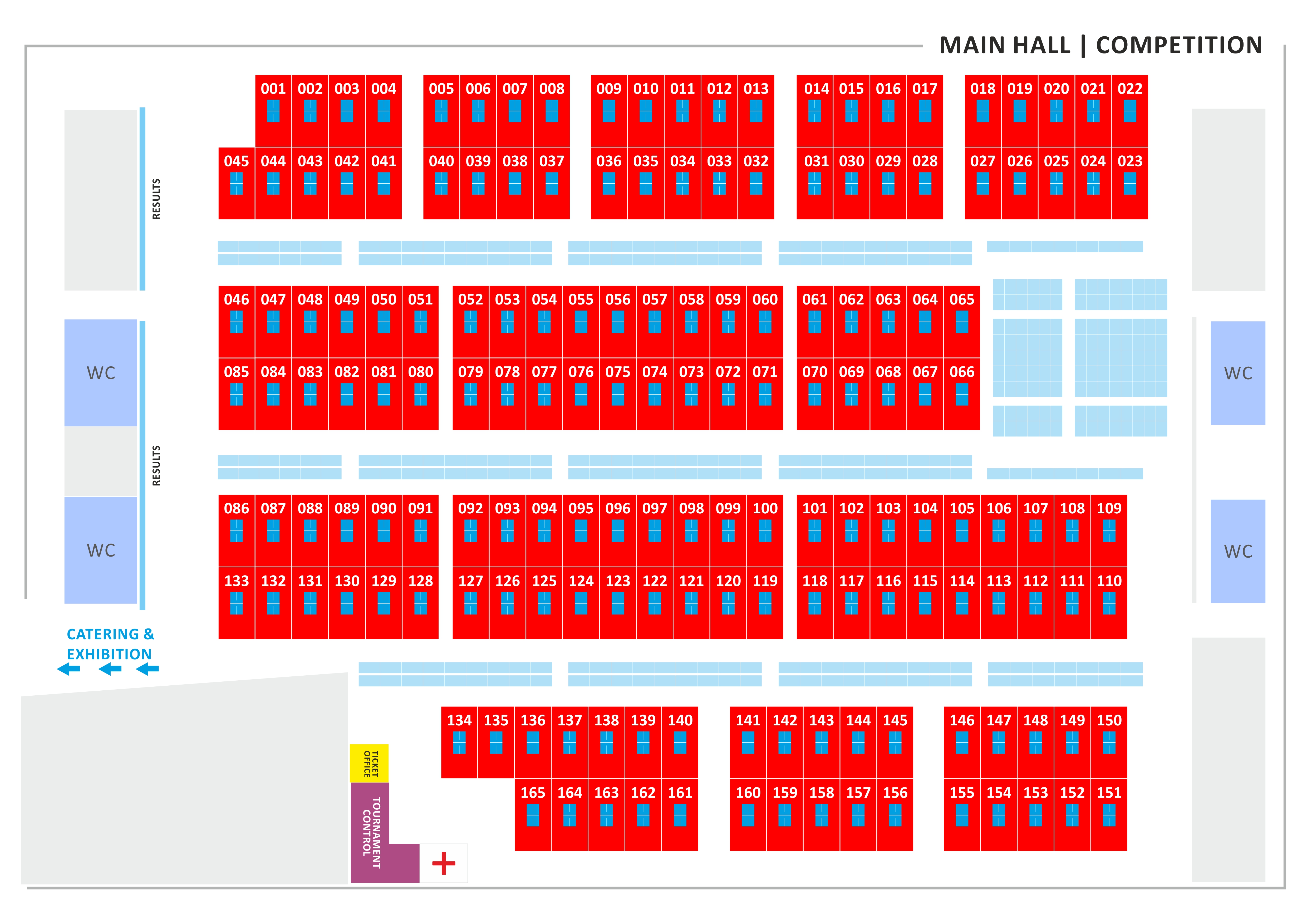 WVC2016 Draw/Results
Bus Services - Time Tables

Route 1


Route 2


Route 3


Route 4
(Pdf Downloads)
2016 World Veteran
Table Tennis Championships
Alicante/Elche, Spain
Organizer: Royal Spanish Table Tennis Federation (RFETM)
Our website: http://www.wvc2016.com
Our email: [email protected]
Our address:
Royal Spanish Table Tennis Association
C/ Ferraz, 16
28008-Madrid (Spain)
Fax:+ 34 91 542 92 05

The Venue:

IFA (Institución Ferial Alicantina)
National Road N-340, Km 731
03320 Elche (Alicante)
Latitude 38º 17´46´´N Longitude 0º 34´30´´ 0

TIME AND PLACE
The 2016 World Veteran Table Tennis Championships (2016 WVC) will take place from Monday, May 23rd until Sunday, May 29th at IFA (Institución Ferial Alicantina), Alicante/Elche, Spain.

NUMBER OF PARTICIPANTS / WAITING LIST

Up to 4 600 players will be allowed to participate in the 2016 WVC. Player's entries will be registered in chronological order after receiving full payment of entry fees. ("first come, first served"­ basis). Registrations received above the number of 4 600 will be put on a waiting list in the order of date of entry. Vacancies will be filled from the waiting list.


PRELIMINARY TOURNAMENT TIMETABLE (provisional)
Saturday, 21st May
Accreditation from 10.00 to 18.00 at IFA
Opening time of the venue/ Practice from 10.00 to 18.00
Sunday, 22nd May
Accreditation from 9.00 to 17.30 at IFA.
Practice tables available at IFA from 10:00 to 16:30
Opening ceremony 19:00.
Monday, 23rd May
Practice from 8:00 to 9:00
Accreditation from 8:00 to 12:00 (noon)
Group qualification matches in singles.
Tuesday, 24th May
Practice from 8:00 to 9:00
Group qualification matches, Completion of singles and doubles round robin.
Wednesday, 25th May. Free day. No competition.
Practice tables available at IFA from 10:00 to 16:00.
Sightseeing activities.
Table Tennis Legends dinner from 20:30 to approx. 22:30 h

Thursday, 26th May
Practice from 8:00 to 9:00
Main competition knockouts in Singles /
Consolation rounds (Knock­Out system).
Friday, 27th May
Practice from 8:00 to 9:00
Main competition knockouts in Doubles.
Consolations and main competition knockouts events continue,
Gala dinner from 21:00 to approx 23.00
Saturday, 28th May
Practice from 8:00 to 9:00
Consolation finals (all Singles and Doubles events).
10:30 to 12:30 Semi-finals and doubles finals. Award presentation Doubles events.
Singles knockouts till final stage.
Sunday, 29thMay
Practice from 9:00 to 10:00
Semifinals and Finals of Singles events
Award presentations Singles events and Closing ceremony
Opening ceremony
All accredited persons (players, umpires, staff, volunteers guests, accompanying persons) will receive free entry upon presentation of their personal accreditation.
Table Tennis Legends Dinner
Wednesday, 25th May, at 20:30.
The Table Tennis Legends dinner is arranged by the Spanish Table Tennis Association, open to all participants. The price and the booking system will be announced very soon.
Gala Dinner
Friday, 27th May, from 21:00 to 23:00
The Gala Dinner will be held on Friday evening and open for all participants. The price and the booking system will be announced very soon.

REGISTRATION / ENTRY

Registration periods and entry fees:
1st Registration period:
From June 29, 2015 to December 15th, 2015 € 150.00 / participant
(€ 50 / accompanying person)
2 nd Registration period
From December 16th, 2015 to February 29th, 2016 € 195.00 / participant
(€ 50 / accompanying person)
The closing date for registration is February 29th, 2016.
The Entry fee for participants includes:
• Starting place which allows participation at the 2016 WVC
• Use of practice facilities
• Participation (attendance) at the Opening Ceremony
• Personal accreditation
• Tournament documents
• Participant's diploma and gift




INDIVIDUAL REGISTRATION
Online registration by using the registration form. Individual entry fees and other accreditation costs are payable as soon as the individual online registration is completed.

DOUBLES REGISTRATION
• Once the registration is all paid for, players will receive by e-mail further instructions on how to find a partner.
• A double has to be confirmed by both players.
• Deadline for finding a partner is Friday, May 13 2016 24:00 Midnight
• After that time a partner will be chosen randomly for you.
• Players who are not accredited by Monday, May 23, 12:00 noon, will be excluded from the doubles event!!

REGISTRATION OF ACCOMPANYING PERSONS

Registration of accompanying persons should take place together with the registration for the tournament. Entry fee has to be paid together with the entry fee for the participant.

Entry fee for accompanying persons includes:
• Personal accreditation
• Admission to Venue
• Admission to opening ceremony
• Gift and souvenir programme

GROUPS REGISTRATIONS

Conditions:
• There must be at least 20 people in the group and the group must stay mainly in the same hotel.
• Contact person/team leader is the only person to be contacted by the tournament organizer and all group information must be given at the same time.
• All costs of the group must be paid at the same time.
• The collection of all tournament documents for the entire group can only be done by the contact person/ team leader named during the registration process.
Benefits:
• Extra gift for group leaders
• Free Table Tennis Legends dinner for group leader
• The group has possibility to get own guide temporarily or for the whole time (extra cost)
• The group gets extra help in arranging trips in Spain.
If there are more than 40 people in the group there are more benefits:
• The group get discount 5€ / per participant when registered before December 15th, 2015.
• Free Gala Dinner for group leader.


PAYMENT
Bank charges / Outstanding payments
Bank charges, exchange costs etc. will have to be borne by the participant. Outstanding bank charges or handling fees which are always at the participant's expenses, necessarily have to be paid by the participant (only cash in Euro) before the tournament documents can be collected.
The organizers will not hand over the back number and tournament documents, both of which entitle the person to participate, unless payment has been effected.


CANCELLATION
In principle, cancellation of entry is possible at any point without giving reasons. You have the right to cancel your order within 14 days after the date of the invoice your registration without any cancellation fee. After 14 days the following cancellation fees will apply:

Before 23rd September 2015: no cancellation fee.
From 24th September 2015 to 31st December 2015, the cancellation fee will be 50%.
After 31st December 2015, the cancellation fee will be 100%.
If you cancel only a part of the order, the cancellation fee will be based only on the price for that part.
To cancel an order or part of an order you have to send your given name, family name, invoice number and your bank account details by email to [email protected]

REFUND IN CASE OF CANCELLATION
According to the rates and dates above, the cancellation fee will be reimbursed by the RFTEM within 30 days after receipt of the cancellation. Any fees incurred for reimbursement will be payable by the person cancelling his entry.

CANCELLATION OF HOTEL BOOKING
By cancelling the tournament participation, hotel bookings will not automatically be cancelled. Accommodation has to be cancelled separately.

TRANSPORTATION DURING COMPETITION
Organizers will provide a transport service between the airport and the official hotel and between the Sports venue (IFA) and the official hotels (timetable to be published at a later date) on a "first come first served" basis. The cost of this service for the entire competition period plus airport to the official hotel upon arrival and from official hotel to the airport at departure will be Euro 150. Special offer for only transportation between official hotels and the venue will be also available. Transfers from Alicante airport to the Official Hotels will start two days before the start of the Championships and from the Official Hotels to Alicante airport will finish the day after the end of the Championships.

OFFICIAL HOTELS
You can find all the official hotels and booking conditions here.
We recommend the Special accommodation packages including:

- 7 nights of accommodation according to the hotel and kind of room requested from 22nd to 29th May 2016.
- Travel and Assistance Insurance.
- Guided Tour to Alicante or Elche and Travel Guidebook.
- Transfer from Airport to Official Hotel starting two days before the star of the Championships and from the Official Hotel to the Airport finishing the day after the end of the Championships.
- Transportation from the Official Hotel to the Venue and back during the competition dates.

HOW TO GET TO ALICANTE / ELCHE, SPAIN
By air to Alicante airport. The list of air companies with direct flights to Alicante can be found here.

More information about connections and distances from/to Alicante/Elche can be found here.

VISA AND ENTRY INTO SPAIN
Each participant is personally responsible to obtain a visa if necessary. For more details please contact the Spanish Embassy in your country. Do you require a visa to enter Spain? You can find the answer here.


ILLNESS / ACCIDENT
To compete, participating players of the 2016 WVC are responsible for their physical and mental fitness. It is recommended that a routine check-up ahead of the WVC should be carried out by a doctor.
The Organizing Committee does not provide health insurance for participants. Any costs for medication, bandages or other medical services will not be born by the Organizing Committee. First aid/medical duty personnel will be available at the IFA during the whole duration of the 2016 WVC.

LIABILITY / INSURANCE
The Organizing Committee cannot accept liability in case of accidents, injuries, thefts or damages of any kind.
The Organizing Committee does not provide health insurance for participants. Each participant has to take care for his/her health insurance and to bear the relevant costs.
Costs incurred by foreign participants for late departure or non­departure from Spain due to illness will be at each participant's expense. The Organizing Committee shall not be liable in this respect and has not made out an insurance.